Fitness & Swimming Pool
The Hammam-Sauna area is now open every day from 7:30 to 21:30
The Fitness Area
Overcome your limits, believe in your abilities and build your self-confidence.
It is through a personalized coaching according to your expectations that the international athlete and Olympic medalist Cédric Grand and his coaches Aurélie and Pascale, guide each one in order to reach results and performance. Coaching is carried out in the prestigious fitness center of the Fairmont Grand Hotel Geneva, equipped with the latest technology.
Join the club and enjoy many advantages.
Learn more about memberships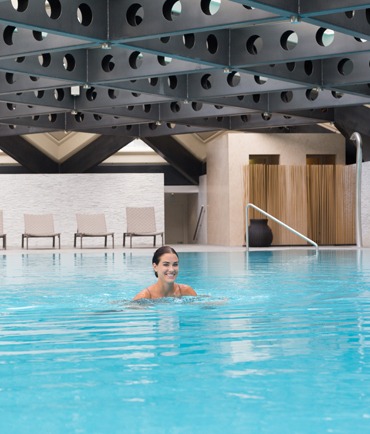 The Swimming Pool
The largest private indoor pool in Geneva… A haven of peace!
Our magnificent 20-meter swimming pool, heated to 28°C under a glass roof, will bring you complete relaxation.
After a treatment, you can enjoy moments of relaxation in our large hammocks, or a few swims in peace.
Be privileged
Day Pass
Unlimited access to our facilities :
Swimming pool, Steamroom, Sauna and Fitness.
Towel and bottle of water included.
From Monday to Sunday
10:00-19:00
Entrance fee adults – CHF 100.-
Entrance fee children from 8-16 years old – CHF 70.-
3-7 years old – CHF 35.-
Below 3 years old – Free
– Gym and relaxation area
A minimum age of 16 years is required for access to the gym, sauna and steam room.
Children under 16 must be accompanied by an adult.
The wearing of shoes and sportswear suitable for exercise is mandatory in our gym.
– Swimming pool
The pool is not supervised by a lifeguard, so swimming is the sole responsibility of the parents.
Children of all ages are welcome from 10:00 to 18:00.
For reasons of hygiene, we ask all our guests to take a shower before entering the pool.
Please note that our relaxation area (pool-hammam-sauna) is a mixed zone.